Celtics may face adjustment period with Gordon Hayward
We all remember the gruesome injury that left Boston Celtics forward Gordon Hayward out for the season last year. Five minutes in to the Celtics' first regular season game against the Cleveland Cavaliers, Hayward suffered an ankle and tibia injury that left everyone shaken for weeks.
Not long thereafter, Hayward sported a sunny attitude in a video clip thanking the Celtics and their fans for all their love and support. Hayward began the road to recovery with some speculating that he might be able to return to the Celtics for the playoffs, but he took the entire season to recuperate so that he could be 100% at the beginning of the 2018-2019 season.
Time has seemed to fly by since that fateful evening last year, and the Celtics' stunning success has given Hayward the pressure-free time he needed to get back on his feet. Boston fared well after Kyrie Irving went down with his own injury, and now that LeBron James has made the move to the Western Conference they might just be a shoe-in for a Finals appearance this coming season.
The injuries the Celtics sustained last year were unfortunate in a way, but in another, they prepared the team for long-term success. Players like Jayson Tatum and Terry Rozier were given invaluable minutes on the court in high-pressure situations allowing them to develop the skill set they'll need to maintain in times where the starters need a rest. Boston's experienced depth will prove crucial for them next season, and ideally, they'll be able to balance the minutes of the starters and the bench to keep players healthy for longer into the season. Perhaps they would have had Irving for longer than they did last year if they didn't have to rely so heavily on him early on.
With all the great things that come with experience and depth, there may be some kinks the Celtics have to work out in the beginning. While Hayward will be 100% health-wise, mentally he will need time to fully recover and get his head back in the game.
He discussed the first game of the season saying,
"I would say I'm basically 100 percent. There are certain things that I think are going to take time. Even if I was 100 percent healthy, I'm not 100 percent basketball-wise, just because I haven't played in a year. I'm trying to figure those things out." He went on to say, "The hardest part of the whole process has been the mental challenge. I think you find the fight within yourself."
Even if Hayward was 100% ready to go mentally, there would still be some adjustment adding him back into the roster. He's essentially new to the team with the exception of some practices, and a few minutes of actual game time. It will be up to the genius coaching direction of Brad Stevens to help everyone adjust and redefine roles and expectations as the season gets underway.
In what was an incredible rookie season, Tatum earned himself a solid position on the Celtics' roster last year, and adding Hayward back into the rotation will be an adjustment for him also. The same goes for Rozier, however, he played with Irving for the first part of the season so he will likely be able to adjust quickly.
Yet another variable to consider is how the overall lineup will adjust to having both Hayward and Irving back in action. I'm not as concerned about this situation because the team plugged away with different changes over the course of last year's season with little issue working their way to the Eastern Conference Finals. Nonetheless, there will be a settling in period that could possibly cost the team a couple of wins so they'll need to monitor that situation carefully.
The biggest concern I have heading into the season is how Hayward and Irving will adjust to one another. Irving is certainly at a higher superstar level than Hayward. Nothing confuses a roster more than unclear leadership, and I hope that these two are able to strike a balance as they look to lead their team to victory. Irving's championship level experience trumps that of Hayward so I hope to see Hayward take a backseat to leading as the team approaches championship match-ups and late postseason competition.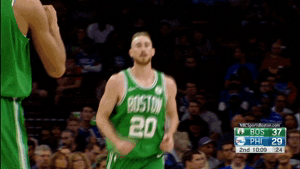 The Celtics tip-off pre-season in Charlotte against the Hornets on September 28th at 7:30 pm Eastern.