Golden State Warriors drama: Will it make or break the team?
It's no secret that I'm not a big fan of Kevin Durant's decision to leave Oklahoma City to move to Oakland, California and play for the Golden State Warriors. I'm not alone in my opinion that, while the Warriors need Durant to rake in seemingly effortless championships, they've won without him and they could probably do it again.
Apart from my disdain about his decision making, I've always been a fan of Durant's game. He's a unicorn of unicorns, and truly impossible to guard. That's why I was so disappointed to see him choose to join a house that had already been built as opposed to putting in the hard work to build his own.
But alas, my opinion in the matter doesn't really count, and Durant has enjoyed bringing in championships in his new home with his new family who have all embraced him, and sang his praises.
Although I like Durant's game, I am in awe of Draymond Green as an athlete and a leader. Green seems to take pride in excelling in the less-popular parts of the game, but he takes pleasure in the parts of the game that make the biggest difference. To say that Green is the heartbeat of the Warriors is an understatement. He's as valuable on defense as Stephen Curry is on offense, and his ability to light a fire of passion and championship mindset in his teammates is nothing like anything I've seen.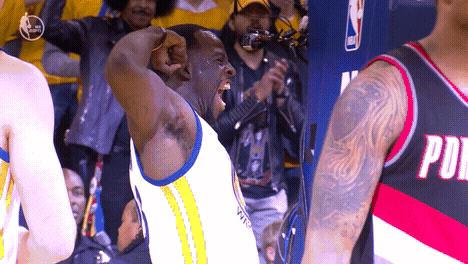 Green was actually a huge catalyst behind bringing Durant to the Warriors. The two are friends off the court, and Green had a vision for the type of empire the Warriors could become with Durant's scoring prowess.
The Warriors are already one of the best teams the league will ever see, and with Durant on board, their reign seems all but guaranteed for the foreseeable future.
However, Green's passionate and biting words to Durant this week could pose a problem for the organization as the season continues. Remember, Durant signed a one-year deal with the Warriors this summer making him a free-agent again in the summer of 2019 (a move that I believe furthers my point that he's always looking for the better deal, but I digress).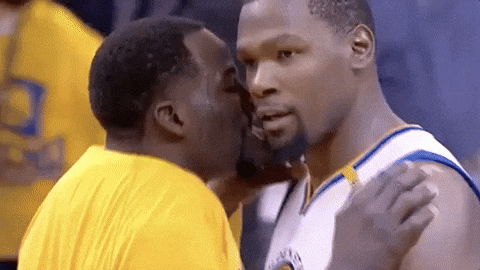 Some have also speculated that Durant is enjoying the tease of free-agency a little too much, and perhaps he's encouraging a level of courtship from the Warriors that players are simply getting fed up with.
This theory seems to hold up in light of recent events. On Monday of this past week, Green and Durant got into it on the court where the argument then spilled over into the locker room. No one knows exactly what was said, but Green allegedly brought up Durant's pending free-agency and called him a derogatory name. He also supposedly mentioned how the Warriors had won without him, possibly indicating they could do it again.
The Warriors suspended Green one game without pay which cost the fiery star $120,000 which he is appealing.
Warriors forward Draymond Green suspended: pic.twitter.com/9XZWQ5U6V8

— Warriors PR (@WarriorsPR) November 13, 2018
Green spoke about the incident stating:
"Kevin and I spoke. We're moving forward. Nobody in this organization — not myself, not Kevin, not anybody else — is going to beat us. If you're one of those 29 other teams, you've got to beat us. We're not going to beat us. We're going to do what we do. And I'm sorry if that ruins everybody's stories. If this only makes Kevin, myself, and the rest of my teammates stronger, that's what it's going to do. You think you saw something before, good luck with us now. We're not going to crumble off an argument."
Coming from Green, I believe this, but I worry about how the seemingly passive aggressive Durant might fare long term.
With reports that speculate Durant is the most powerful player in the league, his ego has to be enticed by the allure of getting a super-max contract at the end of this season. Signing a one-year deal means that he's certainly keeping his options open so I would imagine he would be willing to avail himself to the highest bidder when the time comes.
Free agency aside, this argument seems an unnecessary distraction for the Warriors at the moment. It's possible that the air has been cleared, and the team will play better than ever now that the tension is out in the open, but that remains to be determined.
Time will tell how things pan out, but hopefully the Warriors can put this little mess behind them and focus on winning games because the Portland Trailblazers are just two games way from capturing the first slot in the West.