Key players to watch in the Northwest Division
Just recently, I was asked to be a guest on The Baseline to discuss the Northwest Division of the NBA. As Shaw Sports' resident Nuggets fan, the NBA's Northwest is the division I am most involved with, and I was excited to have the opportunity to talk hoops with the show about our theories about what we might be able to expect this coming season.
If you happened to miss this the episode in question you can listen here.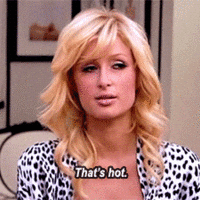 While discussing different scenarios on the pod, one common theme ran through our conversations. Who are going to be the key players for the teams in the NW division this year?
So, this week, I'd like to break it down a little more and dive into who THE guy on each team will be, and why.
Oklahoma City Thunder
The Thunder lost some weight this summer, but they're none the worse for it. Anyone who has read my articles knows I am no fan of Carmelo Anthony's game, and I said from the beginning that his presence in Oklahoma City would be nothing but a drag to the entire team in the 2017-2018 season.
After only one season Melo and the Thunder decided to part ways leaving Paul George and Russell Westbrook in the driver's seat of the team starting in October. Anthony was never the main man in Oklahoma, but now that he's moved on, Westbrook can take back full control of his team and hopefully get them moving in an upward direction.
Westbrook, of course, is the Thunder's most important player, and this year more than ever he will need to be a strong leader for his team if they wish to remain relevant in the Western Conference. However, he's not necessarily known for being the charismatic Mr. Congeniality type of leader that has made players like LeBron James so successful.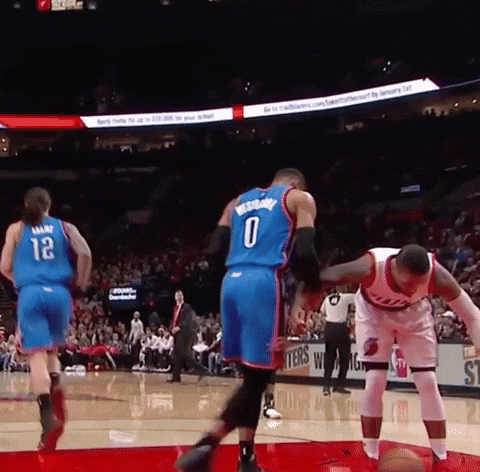 If Westbrook wants to elevate his game even higher than it already is, he's going to need to work on those leadership skills to empower his team to keep pace with him as he pushes for wins.
Portland Trail Blazers
Being a Nuggets fan, the Portland Trail Blazers are a bit of a sore subject for me to discuss. Their success last season was well deserved, but seeing Jusuf Nurkic play so well for them after playing terribly for Denver burns.
Nurkic is an incredibly talented player, and his sheer size makes him a force to be reckoned with on the court. Moving from the Nuggets to the Trail Blazers, he turned over a new leaf and took his physique a lot more seriously. He dropped quite a bit of weight, adding lean muscle in the process. The result is what you could imagine. A beast under the rim capable of handling any big-man in the league.
Unfortunately Nurk has an Achilles heel that can be absolutely devastating for any team he plays for, and that's his attitude. It's no secret that Nurkic is a very passionate, and emotional player. The good side of that is an eagerness to win, and a tenacious enthusiasm to prove his nay-sayers wrong. The bad side is his tendency for immaturity, and a lack of mental toughness.
The jilted Nurkic who wanted nothing more than to shame the Nuggets after being traded is exactly the player Portland needed to elevate the team's talented back court, but his propensity to be complacent could really cost them big if he can't find a way to stay locked in mentally. As odd as it sounds, I believe Nurkic will make or break Portland's season this coming year.
Utah Jazz
The Utah Jazz are operating a little bit like the Celtics of the Western Conference in that they're quietly building an empire capable of taking over at any moment. Perhaps that's a little dramatic given the addition of James to the West, but you get my drift.
Utah's work on rebuilding after losing Gordon Hayward in free agency was impressive, and they didn't waste any time replacing him with a budding superstar who is going to be very special in this league. Donovan Mitchell (who is another sore spot for me given the Nuggets' opportunity to snag him) quite literally exploded onto the NBA scene last year, and he wasted no time becoming Utah's most important player.
Mitchell lost the Rookie of the Year award to Ben Simmons (who has technically been in the league two years, but was injured before the official season started last year), and he took home the All Star Slam Dunk title with a creative menu of dunks paying homage to Vince Carter.
The great news for Mitchell is that Utah is a clean slate for building his own team, and creating his legacy. It's clear that he will be capable of leading a team, and it's exciting to think about what he's going to accomplish in his second year of the NBA when he's already come so far.
Denver Nuggets
The Nuggets can be an impressive team as they operate their offense a little differently than a lot of other teams in the league. Their starting point guard, Jamal Murray, is really more successful as a shooting guard, but playing him at the point works well because the Nuggets' real distributor is their center Nikola Jokic.
"Magic Jokic" as Nuggets fans call him (referencing Magic Johnson's famous ability to facilitate), has an uncanny way to get the ball into the hands of his teammates when they're working to make cuts to get a good look. When they get on a roll, it's truly incredible to watch.
But, I don't believe that Jokic will be the Nuggets' most important player next season. I can almost hear the gasps as I'm typing this, but the Nuggets don't have an offensive problem. They have a problem on defense, and if they don't fix that they will log yet another season out of the playoffs.
Paul Millsap will be the main man to lead the Nuggets to a post-season appearance next season primarily because of his skills on the defensive end of the court. It's well-known that Jokic is not really a defender, and while Denver is getting better with perimeter D, there is still a long way to go.
Millsap is the Nuggets' defensive pace car in a way. He has the ability to get in the game and set the tone for how the rest of the team will play defense, and even though it's what your grandpa always says defense really DOES win championships. That starts by defense winning games.
Minnesota Timberwolves
Jimmy Butler is all but officially gone from the Timberwolves for the 2018-2019 season, and while he would have made a great impact in Minnesota if he stayed, it's safe to say that relationship is over.
Without Butler, the T-wolves are in a weird situation in that they really don't have anyone to step up and be the leader of the team. I was on the Karl-Anthony Towns bandwagon for a while, but it seems that he really doesn't want to be the leader the team needs. It's a shame because his skill set truly sets him up well for that opportunity should he want it, but as we see with players like Melo, Anthony Davis, DeMarcus Cousins, and many more, if you don't want to be a leader it shows.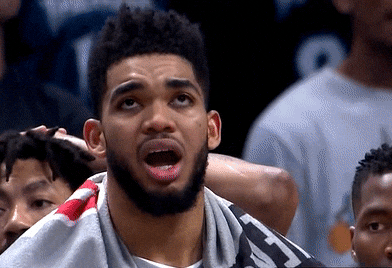 The most important player on the T-wolves roster has yet to be determined for the season. Minnesota may not be the marquee headline city that Los Angeles or New York is, but Kevin Garnett made a name for himself playing for the Timberwolves so it will be open to any player who wants to accept the challenge.
Preseason is just one week away, so we will see how this division shakes out over the coming months. If there is one team who may surprise us, I think (hope) it might be Denver.