NBA free agency and trade highlights of the week
In the quiet of basketball winter, the free agency and trade markets are fast at work to optimize the lineups for the coming NBA season. Now that LeBron James had made his decision, the news is a little less exciting, but there are noteworthy moves happening that we can expect to impact the landscape of the league beginning in October.
Here are this week's top highlights.
Carmelo Anthony to part ways with the Oklahoma City Thunder
Since his fairly dramatic departure from the New York Knicks, Carmelo Anthony hasn't made as much of an impact with the Oklahoma City Thunder as anticipated. The Thunder acquired both Anthony and Paul George to compile their version of a super team for the 2017-2018 NBA season. Unfortunately for Oklahoma, their dreams of NBA glory didn't quite pan out, and they finished 6th place in the Western Conference only to be eliminated in the first round 4-2 by the Utah Jazz.
This past week, Melo and the Thunder announced that they were looking to part ways, but instead of waiving Anthony outright, the Thunder want to find a deal for a trade. The Thunder front office is smart to seek a trade for Anthony given his hall-of-fame status in the league, and they're rumored to be discussing options with the Houston Rockets as their first choice. Shams Charania of Yahoo Sports also reported that Anthony has considered a move to Miami.
The Houston Rockets have emerged as strong frontrunners to acquire Carmelo Anthony once he is free from Oklahoma City, league sources tell Yahoo. Anthony also has considered Miami.

— Shams Charania (@ShamsCharania) July 13, 2018
Melo's final destination may still be undetermined as the team who does trade for him has the option to waive him making him a free agent so this will be a developing story.
Nomad Isaiah Thomas agrees to a deal with the Denver Nuggets
The dictionary defines a nomad as a person who has no permanent abode–one who travels from place to place to find fresh pasture. If this doesn't accurately sum up the past year of Isaiah Thomas' career, I don't know what does. Thomas was traded from the Boston Celtics to the Cleveland Cavaliers last season in a dramatic move by the Celtics to acquire star guard Kyrie Irving. The move ended up being great for Boston, but didn't pan out so well for Cleveland who subsequently traded Thomas and a slew of others away at the trade deadline in February. Thomas was rumored to be involved in some Cavs locker room drama, and the purge of players seemed to put an end to the nonsense to allow Cleveland to make it to the NBA Finals.
Thomas played for the Los Angeles Lakers for the remainder of the 2017-2018 NBA season, and was ultimately a non-contributor for the team while he finished out his existing contract to become a free agent. Depleted in value, Thomas had his work cut out for him to find the right team to call home for the coming NBA season. With a PR black mark on his record, and an implied shunning from King James things wouldn't be easy.
However, the Denver Nuggets have been in the market for a solid back up point guard for some time. They have a solid offensive presence with their first unit, but they needed someone to come in and maintain when Jamal Murray wasn't in the game. Thomas met with Nuggets' President Tim Connelly in Vegas recently to discuss Thomas' role with the team. Adrian Wojnarowski of ESPN calls the 1 year, $2 million dollar deal a high reward-low risk move for the Nuggets as they look to make it to the playoffs this coming season.
For Thomas, this is an opportunity to re-establish himself in the league. Given that he was practically an NBA superstar just one year ago, it can't be easy on his ego to take a minimum offer, but this opportunity has the potential to put him back in the spotlight.
Denver Nuggets finally part ways with Kenneth Faried
For Denver Nuggets fans, there has been little to hold onto these past few seasons. With the epic playoff collapse of the 2012-2013 NBA season followed by years of dark ages, Nuggets supporters have worked hard to keep believing in their team. One of the players that kept the loyalists excited through the hard times was "The Manimal", Kenneth Faried.
Faried dazzled crowds each and every game, win or lose, with his aggressive rebounding and poster-worthy slam dunks. Faried's famous braids would fly as he drove the ball through the basket causing fans to jump out of their seats in approval. Faried also impressed in recent years playing for Team USA Basketball coached by Mike Krzyzewski, or "Coach K". (We all pronounce his last name She-shevski, and I have no clue how we get there from how it's spelled, but I digress.)
In subsequent years, the Nuggets have aggregated a lengthy list of forwards crowding the roster to the point where Kenneth Faried took the last seat on the bench. With Paul Millsap, and Trey Lyles running the show at the 4, Faried's efforts seemed to be unnecessary and the Nuggets were getting important wins without him. However, they couldn't seem to find a good way to part with him and offload his contract. This week, Denver finally got their chance moving both Faried, and Darrell Arthur to the Brooklyn Nets in exchange for Isaiah Whitehead who the Nuggets plan to waive to increase cap space.
For Denver, this is an end of an era. Faried will be missed by all who watched him play, and I hope he finds success with the Nets.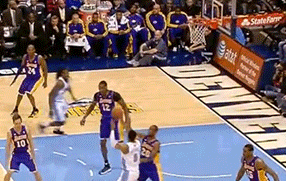 There are sure to be more exciting headlines in the coming weeks, and we still have yet to see where Kawhi Leonard lands so stay tuned for more updates!